Text
At ProHealth Physicians Ear, Nose & Throat (ENT), our team is passionate about giving patients with head and neck conditions the best possible medical care. We can treat everything from a simple ear infection to complex problems. 
Our ENTs, also known as otolaryngologists, are among the most skilled specialists in New England. All are trained surgeons, with years of experience in the field, and accredited by the Academy of Otolaryngology. 
Horizontal Rule
Our services
Text
Scope of care
We see patients ages 10 and older, with the exception of Dr. Wolfe, who treats patients of all ages.
We care for a wide range of ENT concerns:
Sinus surgery
Hearing and balance problems
Voice and swallowing problems
Throat and neck problems
Pituitary and skull base surgery
Facial plastic surgery 
Alternative options for sleep apnea 
What to expect
We know how important the ears, nose and throat are to health and well-being. We also know that some conditions can cause serious problems if left untreated. So we do everything we can to help you get better, faster. 
We stay on top of advances in ENT care and use the latest tools and techniques. In addition, our team is supported by the hearing specialists at ProHealth Hearing & Balance Center. Together, we'll develop a treatment plan that's right for you. 
Horizontal Rule
Common conditions
Text
Whatever your health concern is, we'll make sure you get the care you need. Below is a list of some of the conditions we treat: 
Text
Balance problems (dizziness)
Deviated septum (one of the nasal openings is crooked)
Ear infections and ear wax
Enlarged adenoids
Head and neck cancer
Hearing loss
Nasal blockage
Nasal polyps (painless, harmless growths inside the sinuses)
Nasal fractures
Neck masses
Nose bleeds
Ringing in the ears (tinnitus)
Text
Sinus infection
Sinus pain/pressure
Sleep apnea
Smell and taste disorders
Snoring
Sore throats
Swallowing problems
Swimmer's ear
Thyroid disease
TMJ (pain in the jaw joint)
Tongue ties
Tonsillitis/tonsil enlargement
Voice disorders
Text
FAQs
Get answers to your questions about ProHealth, our programs and services, billing and more.  
Text
Patient forms
Download forms in seconds, including pre-visit paperwork, permission to communicate and medical records release.
Text
Health education resources
Find links to all kinds of helpful health information and activities in your area. 
Horizontal Rule
News and events
Card Box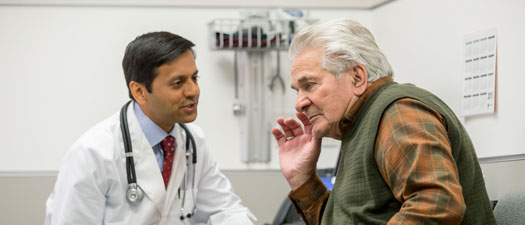 Dementia and hearing loss
Researchers at Johns Hopkins University have found a link between hearing loss and dementia.
Text
6 Northwestern Drive, Ste. 201
Bloomfield, CT 06002
Text
115 Elm St., Ste. 110
Enfield, CT 06082
Text
599 Farmington Ave.
Farmington, CT 06032
Text
320 Western Blvd.
Glastonbury, CT 06033
Text
515 Middle Turnpike West
Manchester, CT 06040